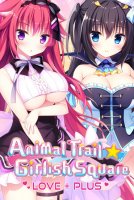 Idol otaku, Nakamori Taiga and the girls of idol group Animal Trail ☆ Girlish Square are back in this series of fluffy & ecchi side stories featuring Haneru and Tetora!

- Haneru Route
In search of another way to promote the group, Haneru turns to streaming old games and somehow it actually proved to be a success? Of course she's doing It for the views (and the fans) but one thing leads to another during a "study" session on old games that Taiga lends to Haneru.

- Tetora Route
The seed of understanding her role as an idol begins to sprout within Tetora. She gets both excited and nervous at the prospect of practicing "stage chatter" with Taiga. Taken by surprise with this request, Taiga does what he can to help her out. That resting Tetora face says otherwise though. What will our hero do to smoothly get her talking and smiling for everyone…?