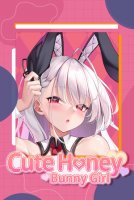 Humans and succubus once coexisted on the same continent, but after a war, humans banished succubus to the underworld.As the guardian of humanity, the player will use various methods to prevent the succubus Elise from entering human society.
Over time, succubi have gradually faded out of human history and become a species that exists only in myths and legends. The only people who still believe that succubus is real are biologists and a couple of trail reporters who can't find any big news. There are always young succups who, despite the elders' interference, slip into human society.....

Elise, a succubus working in a bar, accidentally meets a gentle singer. But the nature of succublets lets her can hardly control herself, Not only to avoid tracking reporters, but also to conceal the identity from lover, whether can this romantic love blossom finally go to the happy ending?

Cute Honey: Bunny Girl is a strategic tower defense game that, as the story progresses, player can use items from each scene to lower the strength of the succubier Elise to achieve the ultimate goal of preventing the succubier from entering human society.
Props that can be placed freely
10 levels with different styles
Heroines with different states
Brand new game mechanics
New interactive mode
Brand new story
Full audio

In the game, you will experience the loveliness of Elise in human form, and conquer the sexy Elise in succubius form, and there are more stirring CG waiting for you to discover.