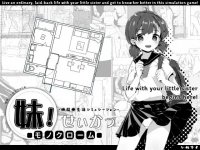 Slowly, little by little, you'll grow closer to each other.
A daily life simulator where you live with your imouto (little sister).

Following her graduation, your sister moves in with you to your apartment,
where you'd been living on your own.

You're suddenly thrust into this life with your imouto.
What kind of brother will you become?

Life with your younger sister
You'll play as your sister's older brother, and live with her.
You might spend your days going to school, going to work, or maybe even lazing around at home.
During these days, you'll do some physical bonding with your sister.

You'll do things like peeking at her when she's in the bath, and cumming on her while she sleeps.
We recommend this game to people who'd like to steal panties.
There's nothing too hard in this game, so please enjoy it as a casual experience.

You'll slowly gain access to more activities
At first you'll have to be sneaky...but you'll gradually get to do more things.

Playing games together, going out during the weekend together, doing mischief to her while she's sleeping, having a bath together...
If you put in the time, eventually you might even have sex with her.