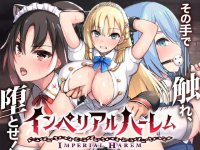 You're a government official in the empire, and, with the emperor's illness,
you've decided now is your chance to wrest control of the nation for yourself.
However, the emperor's lone daughter Tiana and her closest aides pose the largest threat to you.
They want a pure and proper government, and wish to purge the tainted likes of people like you.
But you've just acquired a special ring that can turn the tides in your favor…
The fiery beast-girl maid Aruru.
The devoted researcher and alchemist Fii.
The beautiful and prideful princess Tiana.