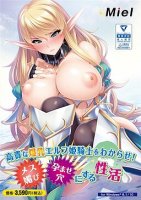 In the midst of battle with the evil Dark Elven forces, Elven princess knightess Falina falls victim to a despicable trap and is transported to the modern world... OUR world!

Appearing right before the protagonist. A hentai enthusiast whose main hobby is fapping off to porn all day, every day.
Being the snooty Elf that she is, she immediately displays her distaste and repulsion for the protagonist. She is also extremely disappointed of the lack of mana remaining in the world (due to human destruction of nature.)

Of course, the protagonist being the cultured gentlemen that he is quickly 'helps' her discover that she can replenish her mana through his semen! What a surprise!? Who would have ever thought!

Begrudgingly, Falina plays along with the protagonist's sexual desires... for without mana she is helpless. But little did she know, the protagonist was a total stallion with a bottomless pit of lust!

Thus begins her new life and transformation into an obedient cumdump!