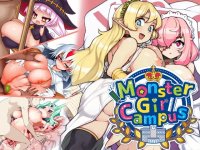 Any normal old school would simply focus on instructing their students to raise the institution's reputation. A school for Monster Girls has some differences.

You need money to make the school bigger and improve its reputation, and that's done through engaging with the world's oldest profession. If you don't train your Monster Girls right, they could injure their clients.
If clients who are just coming for a little fun keep getting nasty injuries, it will damage the school's reputation, and could even lead to the school's closure.

From the grave...to the cradle?
Of course, no one can prevent 100% percent of accidents. Monster Girls are monsters after all, so they may accidentally crush, smash, or squeeze the life out of their clients...despite their best intentions of course.
However, a damaged reputation isn't the end of the world if you work to fix it! Finding Monster Girls employment in the outside world will repair your reputation before it's too late.

What makes it like school?
You have research trees to develop the monster girls' sexual talents, and skills exclusive to each monster race like you'd find in many simulation games, but this particular game also features "Field Trips, "School Regulations", "Employment", "Alumni Visits" and other everyday facets that have been added to drive home the feeling of managing a school.
As a school principal, you can be anything from a great leader to a horny old coot! It's up to you!

In-depth Features
The Japanese version of this game was first released in May 2022, and received many feature updates and bug-fixes post-launch.
Additons to the game include hidden completion conditions, special start settings, and the ability to switch starting characters.
This is truly an H game for those who love deep gameplay systems AND fapping.

Featuring a Voice Work and 4 Live2D Animated Scenes
The Japanese version of the game sold beyond the developer's expectations, so as a show of appreciation, they had 4 of the scenes in the game animated in Live2D and added in, and a voice work featuring one of the monster girls as the heroine was produced and released for sale.

The Japanese voice work is also included with this game, complete with offical DLsite English subtitles to aid your enjoyment.

The journey from humble beginner to Monster Girl master!
Obviously, you're not gonna beat this game this first time around. Even veterans will have trouble with their second go around. Learn well, however, and the third time you just may be able to beat it.

But worry not! You can lower the difficulty if you really want to.
You can even freely unlock all the scenes you want if you prefer to go that route!