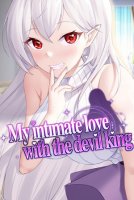 Growing up in quite a wealthy, lovely family, I thought that everything would be alright, as it is now.
But then the accident happened…

"It was so painful, so hopeless. I couldn't breathe; my heart felt like it was going to explode. I didn't want to hear anything..."

"Nothing matters anymore."

An accident took away my family, my life, my everything. All that remained were the eyes that could no longer see a clear view of the world. I was abandoned by the world; I have no value of existence.

But I met you, the one who saved me. You are my only light, pulling my hand to go forward.

Thus, I live together with the devil King of the other world, getting to know each other in life and having an adventure together that I'd never thought of in my life.

But the more I try to understand you, the more I feel that you are suffering more than I thought.
You are also an abandoned person.
The burden of the country, the distrust of the people, and the hunting of the heroes… All that you have endured is not for one person to bear.

Flan, This time, it's my turn to save you.