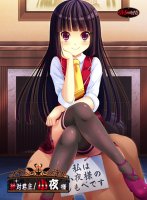 Unable to find a regular job due to the current job market, the protagonist works part-time to make ends meet.
It was just like any other day when he was looking at the classifieds and found a job opening for a "master's servant".
What did that even mean? A butler or something? Anyway, there had never been such a job ad before.
"The words ""no education or work experience required" sounded too good to be true…
When he went for the interview, he was greeted by a young lady...

"Are you the one who wants to become my 'pet'?"

Isn't that a little different from the job description...?