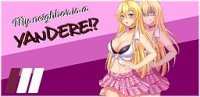 Awake to danger…

Immerse yourself in a kinetic novel of intrigue and seduction!

For seven long years, Nanase has taken care of a comatose Seijuro, who was injured in a terrible accident. When he emerges from his slumber, he finds himself with a case of total amnesia. He remembers nothing of his past nor does he understand why Nanase is taking such good care of him. Without his memory, he has no choice but to rely on her for every bit of information she's willing to divulge.

The truth is that Nanase is a yandere; an impossibly beautiful girl who comes across as sweet and kind at first but eventually reveals herself to be wild and possessive. As Seijuro begins to piece together the elements surrounding his accident, his coma and the drastic measures that Nanase has taken to become his legal caretaker, she begins to reveal the depths of her rather intense obsession. Once her true nature is revealed, the story evolves into an 18+ adventure full of extreme surprises and naughty rewards designed to shock and delight.