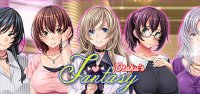 The protagonist was just living an ordinary
old boring temp agency employee life when one day,
at one of the places he ended up working at, a
famous celebrity requests him to pull out his cock!?

He was surprised but... who'd pass up an opportunity like this!
He shoved his d*ck down her throat and gave
her a good load of gooey white jizzzz and... for some reason,
the next day, all the beautiful babes at work know all about it!?

These 'females', the rich and glamorous, they've got plenty
of money and lots of stress they need to blow out and...
the protagonist just happened to be an oasis in their sexually frustrated desert!

Television celebrities, news casters, beautiful office workers,
glamorous wives... these babes are all starving for MAN MEAT
and only the protagonist can tame them with his giant slab of cock!

This is your dream cummmm reality.
Spread your SEED as much you like...
...and be Appreciated by the World!!