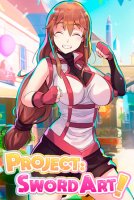 Project: Sword Art is an enchanting match-3 anime-style game set in a fantasy world filled with magic and wonder. Embark on a fascinating journey through a multitude of unique levels accompanied by beautiful music that enhances the immersive gameplay. Prepare to be enchanted by the stunning illustrations that open up as you progress through the game.
Immerse yourself in magical gameplay as you solve challenging puzzles by matching three or more elements. Strategically swap and match symbols to create powerful combinations that unleash spells and special abilities. The game mechanics are intuitively designed, making for a smooth and immersive experience for players of all skill levels.
In this mesmerizing world, you'll encounter a number of alluring and formidable girls. Engage in exciting battles with them, demonstrating your puzzle-solving skills and strategic thinking. When you emerge victorious, these fascinating girls will become part of your ever-expanding collection in your personal gallery. Collecting all the girls is a delightful challenge.