Rural Homecoming 2: Shiori
---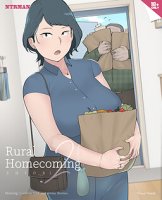 User Feedback
See also:

Shuuya lives with his younger sister Mirai and attends Academy Tengyou Daini. However, their peaceful days come to an abrupt end as their world is taken over by an alternate world called Waibin Sekai – one where angels and demons battle each other and monsters called 'creators' roam freely. The students are forced to decide to ally with the angels, side with the demons or do neither. No matter which choice they make, they would be hard pressed to survive in this dangerous world.


With his parents moving to America for work, Jinno Kyouji returns to his hometown, Kurehito City, after several years of absence to live with his mother's cousin, the free-spirited Saitama Yamiko. There, he encounters several girls he shares a history with.

Kazuyagi Akane, the strong-spirited tomboy he grew up with.
Namiki Aoi, a gloomy girl who's Akane's best friend.
Misono Kiika, a graceful, good-natured classmate of his from his old school.

In three years of absence, his hometown and its people have changed ever so slightly. Despite some hiccups, Kyouji's peaceful days in his hometown begin.

At least until he meets a mysterious girl on his way to his first day at school. Violet hair. Large, striking eyes. Skin that's paler than the driven snow.

"Welcome home," she says. "My name is Yuka. Remember it."

And wherever Yuka is, one mysterious, inexplicable figure is always nearby—a monstrous man by the name of Gore Screaming Show.

Kyouji's encounter with these two figures marks the end of his peaceful days—as they bring madness and despair into this world. Will Kyouji and the girl he loves be able to escape and return to their peaceful days? Or will they—


You are living a life of constant bullying, until one day, you receive an email about a hypnosis application...
Immediately, you target your bully's mom, and program her to think you're having a "baby-making homestay" with her.
You unload your lust on her, and she happily accepts each bit of debauched play you suggest.
She becomes your loving impregnation momma!


The protagonist Fukami Suguha visits the historic graves of the forty-seven Akou rounin on New Year's Day, but suddenly blacks out while observing the solar eclipse. He wakes up in the body of an Edo period samurai with the same name and face. Suguha is forced to adjust to life in the year 1701 as history unfolds, while getting to know the forty-seven rounin, whose personal details closely match history--except that many of them are women.


That summer day. Makoto Okano and his younger sister Hinata sit across from each other in the box seats of a local express heading to that town, underneath a blue sky that seems to stretch out to infinity. The town they are heading to is the very one that they were born in and were separated from long ago -- Kazune City. In the midst of the midsummer wind, bathed in the wind that rushes in from the train window, they head to that town, which they only have vague memories of.

"Say, let's promise to meet again."

"I'll keep playing this harmonica, okay? Because even if I can't reach you, the sound of the harmonica surely will."

The harmonica, which was handed over together with the promise to that girl.

And within the shaking cabin of the train, Makoto wakes up, dimly but surely recalling that memory ...