Rural Homecoming 2: Shiori
---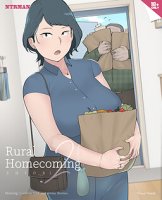 User Feedback
See also:

The story of Snow starts when the main protagonist Izumo Kanata visits a small village called Ryujinmura (village of the dragon god) to help his cousin Tsugumi manage a local hotel with hot springs. In the village there is an old legend: In ancient times, the village is protected by the dragon goddess. However, one day the dragon goddesses fell in love with a human, which is strictly forbidden, and this incident finally caused the village to be always covered by snow after that. The game then tells the daily life of the protagonist in the village, and finally links the story to the legend of dragon goddess.


Demi-humans are treated as the lowest out of all races.

In a small village away from human settlements, Mia and her mother, who barely scraped by, were attacked by human traffickers to be sold as slaves.
"At least my daughter could be spared", as Mia's mother handed her a photo and allowed Mia to escape.

One day, Mia ran into the protagonist as he was managing an inn his father left behind.
From the worn-out photograph, the location of this very inn was noted in his father's handwriting.
"This girl's mother... There is no doubt that was father's former demi-human lover"

I decided to take Mia in for a while.
Her body was thin and her hair was dirty.
I did not seek for repatriation from this girl who possessed nothing, but...

"... I... want to be needed more... Let me service you a lot as well tonight..."


Unpopular with women and stuck working a crappy job, Takumi Tsuge sees no point in living. The one who saves his life is the new announcer Yuki Konoe. She publicly declares that she's single, and she's unapologetically self-assured in her handling of men and the barrage of dirty comments she receives.

Upon seeing her live her life as a virgin who's passionate about her job, Takumi feels like he can accept his own way of living. It's because of her hard work that he's able to go on. That is how dependent Takumi was on Yuki.

However, one day, he finds out the truth. Far from Yuki being a virgin, she has quite an active sex life. Upon learning the truth, Takumi is inconsolable, and he even finds himself starting to consider ending it all when a door-to-door saleswoman turns up at his home.

"Hey, Tsuge. Want all your desires as a man to be granted?
The moment I saw you, I knew you'd be a great candidate… for this invisibility serum…"

Takumi gives the sketchy saleswoman everything he has in exchange for a drug that promises to turn him invisible. Having already given up on life, he plunges the needle into his arm without much thought.

(It's not like it'll work anyway. There's no such thing as an invisibility serum.)

Or so he thought…


Summer Pockets is set on an isolated, rural and peaceful island on the Seto Inland Sea called Torishirojima, which has a population of about 2,000 people. The protagonist is Hairi Takahara, a young man not native to the island. Hairi grew up in an urban setting, but after an unpleasant incident he uses the recent death of his grandmother as an excuse to come to the island to take care of her estate sale. Once there, he gets to know four girls who are the focus of the story. They include Shiroha Naruse, who forgot her summer vacation; Ao Sorakado, who is pursuing the legends of the island; Kamome Kushima, a high-class girl looking for a pirate ship; and Tsumugi Wenders, a younger girl trying to find herself.


Your life together has been steady and sweet.

"Hey, can we kiss? Just a lover's hello."

She looks up at you with those puppy-dog eyes.

"Come closer. Wouldn't you rather do more than just kiss?"

She tempts you with that honeyed voice, and the more you get to know her, the more there is to love.
No drama here, that's all over and done with.
This is a little slice of bliss.