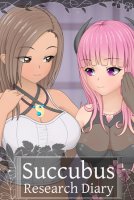 Nerisha is a young adult succubus who has never had sex. This is something of a problem to her because succubi can't fully develop their magical powers unless they have some sweaty fun with humans or other humanoids. However, having high ideals of equality, Nerisha is unwilling to get herself a sex slave as most other succubi do.

Serena is a human explorer who got separated from her expedition after something unfortunate happened. She's a mature woman with plenty of sex appeal that she doesn't hesitate to put to good use.

The two women meet as Serena accidentally stumbles upon Nerisha's doorstep. After learning of each other's circumstances, they strike an unusual deal. A deal that involves the two of them having lots of sex...