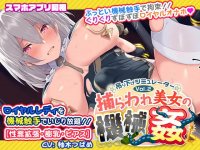 A pussy-pounding simulator in which a beautiful royal lady gets brutally tentacle machine-fucked with silky-smooth Live2D animation!

See her delicate reactions to your every manipulation in real-time.
See that subtle protrusion from her belly as her pussy is penetrated DEEP.
Hear every heated breath and moan synced to her animated reactions.
This work has no phoned-in looped animations.
The physics and character's feeling parameters have been specially tuned for maximum eroticism!