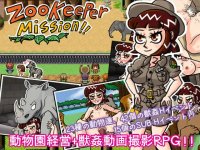 Hello. I'm Doseong City's little Zoo, the Doseong Zoo's Zookeeper, NIZI!! NIce to meet you~
the Doseong Zoo where i work for has lacked the number of Guest, as a result it's on financial crisis……
If Zoo is sell out, animals are sell out some where…Manager and My colleague Zookeeper MINU Fall into trouble too……
I really want to save the Zoo……by the way, Manager tell me the way to save the Zoo.
I shoot a Bestiality Video with animals and Get Money, and breed More animals,
and never be financial Crisis again!!(……Manager's taste is……;;)
Shoot a Bestiality Video, Expand the Zoo, Breed new animals…… and keep the Zoo from selling!