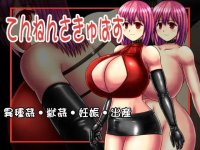 An amnesiac girl sets out on an adventure for the sake of her future, and learns the truth about herself...
User Feedback
See also:

In Island SAGA, you play as the protagonist character as you explore the island of adventure, Valentine Island, with your four royal and royally busty party members in order to search for the fabled treasure of love known as the Love Rheid in this RPG inspired by a very famous classic RPG series!


The main character is trapped in an uninhabited hot spring inn with a junior who has big tits and is the only one who can perform paizuri.
Not only that, but she is not even allowed to enter the hot spring.
She has no choice but to wander around the ryokan to find out the cause.
Since the junior boob always follows him around, he can talk to her and get a titjob wherever he wants.
Since you are at a hot spring ryokan, by all means, aim to make love to your lover's tits in the hot spring.


The main character Yuina Shizuhara is a masturbation loving schoolgirl.
One day she decides to go to a certain park because her simple masturbation sessions can't satisfy her anymore.
There are rumors about the park that men and women go there in search of pleasure…


Once an age the kingdom of Plush is darkened by an "eclipse".
As the time draws near, a foul excitement compels the monsters of the land;
the government enlists every able-bodied soldier and hunter to find
and calm the monsters, however necessary.

Among the hunter mafia are "wolves" with a plot to resurrect a great demon.
Realizing this, the kingdom puts a great responsibility on lone novice hunter, Aina!