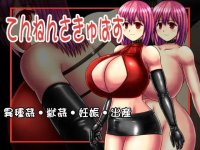 An amnesiac girl sets out on an adventure for the sake of her future, and learns the truth about herself...
User Feedback
See also:

Play as the Netorareas pilot Wiz as you take on different missions.
Will you allow Hikari to have sex with other people and record videos, even if it means saving the world?
The choice is yours.


In a certain empire, the tyrant Eliade reigned, known as the "Evil Empress" for her brutal and inhumane reign of terror.
Her reign, which seemed to last forever, ends with a coup attempt by the Empress.
The only two options given to the tyrant empress are 'execution' or 'carnal act'.


A tale of revenge by goblins after their village is destroyed by humans
Goblins, whose village was destroyed by humans, receive special powers from a goddess.
The goblin, empowered, rapes the heroines who treat the goblins like small fry, and captures the heroines.
The captured heroines are impregnated and give birth to goblins, forming a goblin army.
Goblin army raids human strongholds, and goblin army destroys human strongholds. ……


The fate of a captured princess lies in the hands of a single woman. Using the power of the spirits and a variety of items, the female knight Jeanne must explore the kingdom that's been thrown into chaos to save Princess Lily in this classic-style action RPG.


By day, she's a meak barmaid; by night, she's a naïve thief.
With the power granted her by her partner, ""Rabisuke"", she freely prowls the streets after dark.
Her target is ""Million"", an evil force plaguing the townsfolk.
Awaiting her as she sneaks into Million's operation is battle, traps, transformation, dirty money pilfering, and sexy consequences.
Once again tonight she helps people, and punishes evil with the power of magic…
to help the townsfolk, and to help the mystery person who once saved her…!