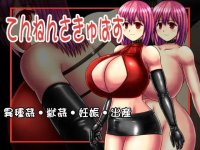 An amnesiac girl sets out on an adventure for the sake of her future, and learns the truth about herself...
User Feedback
See also:

Agnes Lavlie" is a girl-chemist running her business in the suburbs of the Trading City.

Even though she lost her parents in her childhood, she still lived modestly with her younger sister, Lufa, at her grandmother's house, who appeared to be an alchemist-
She couldn't stop worrying about her sister who was suffering from a weird disease called "Sleeping Beauty"; A disease that makes her sleep for most of the day.

One day, when Agnes was on her way to gathering in the woods, she meets her master of alchemy, Bell Faris, for the first time in 7 years.
Because Bell had a debt that she had to return, she decides to utilize Agnes's talent, beauty and her credulous character.
While she acts as if she were teaching alchemy to cure her sister, she tries to repay by making her take part in secret businesses.

On the other hand, Agnes has to grind herself to gather ingredients for her alchemy, and during her journey, she gets involved in many happenings.


A side-scrolling action RPG with the female Lord Knight from Ragnarok Online as the protagonist.
However, the game can be enjoyed even if you aren't familiar with the source material!
In this 2.5D game (a 2D scroller made using almost entirely 3D models),
you play as the Knightess Emilia, and use swords, knives, tomahawks, and more to destroy your enemies.
Gather power-up items, and blast through the fields and dungeons!
If enemy attacks bring you to 0 HP, or you receive consecutive attacks, you will go down.
If you have HP, you can still get back up, but if monsters catch you in your downed state,
you'll be violated on the spot!
Featuring over 20 types of enemies such as bandits, orcs, mermen, tentacle monsters, insects, and fish!
H scenes can be viewed afterward in Gallery Mode, and with full 3D, you can view them from any angle you like!
To unlock scenes in the Gallery, simply defeat or be defeated by the corresponding monster.
There is no need to purposely lose to unlock scenes.
There is no Game Over; even if your HP reaches 0, you'll respawn at a save point,
and you can continue your journey immediately!


The main character, I, has a beautiful and big-breasted cousin named Ayaka. My sister was sweet to me, and even if I was sexually harassed, I would forgive her if I apologized.
One day, I find my sister taking a nap. I've always wanted to have sex with my sister, so naturally I took off my pants and attacked my sister.


Empress Eleonore's kingdom is defeated, and she is found guilty of rebelling against the Emperor, and thus exiled to the Malaise Island.
There, she hears rumors of miraculous treasures sleeping deep in the ground,and of a dragon that protects it all.
With dreams of rebuilding her lost empire, Empress Eleonore's adventure begins!


This is the first of a new series of daily life of characters, centered on Inukai Kokoa and the stray dog Talo from "Stray dog fiance-"!
The purpose is to record episodes and behind-the-scenes stories that were not included in the story of the main story, "Stray dog fiance-".
We will deliver a bestiality story with 21 basic CGs + α and 258 differences.
 
Recording episode (1) Here's a naughty part-time job
Shinai-chan, who has a high sense of beauty, such as clothes and cosmetics, is always running out of money!
Taro, a stray dog, brings a story about a part-time job with a high hourly wage for Kokoa-chan, who is lonely in the wallet situation.
Recorded episode (2) Mama-san and Taro, the story of the beginning!
"Mama's capture by Taro that happened behind the main story of" Stray dog's wife "…
The whole picture will be revealed.
There is also this time! CG recollection room!
We have implemented a CG recollection room so that you can recollect the H scene at any time this time as well!