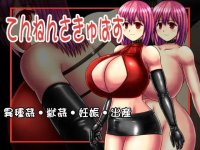 An amnesiac girl sets out on an adventure for the sake of her future, and learns the truth about herself...
User Feedback
See also:

Meltys Quest is about the journey our protagonist, Princess Meltys takes to restore her kingdom. Meltys is a girl who has fooled around all her life, not giving a hoot about anything but herself. But one day the Grolido Monster Empire invades her country, destroys her home, and kidnaps her three sisters. With no castle and no one else to call for help, Meltys decides,

"Well, I'll like somehow fix everything!"

Please warmly watch over Meltys and guide her on this light-hearted, sometimes comical, and sometimes serious, but always erotic, quest to rescue her family and restore her kingdom.


On day she was making her way back home from playing....
at the mansion, knights under the direct command of the royal capital were just about to seize the property.

The knights arrested her father, and when they proclaimed that the Auslese Family's status as nobles had been revoked, the servants who lost their jobs, erupted in anger.
She was almost raped by the knights, but a former maid saved her and the maid took Elddd to her house.

Despite being rescued, Elle complains about the life as a commoner and continues to be arrogant. However she is determined to get rich as an adventurer and regain her nobility but...


A nymphomaniac succubus goes on a sex odyssey, screwing humans and ravished by monsters.
Nothing phases her, if she gets pregnant she keeps going.
Change her outfits and prostitute her…
Her travels will also take her down into a tentacle lair.


A high-quality H experience with beautiful hand-drawn animations.
Add a little color to your life by acquiring the "Doll House", complete with a charming, elegant girl.
The obedient Elenore will surely fill any holes in your heart.

This game is all about giving protagonist Elenore your sexual love.
The delicate animations are supported by Unity's shading technology
and a wonderful full voice performance provided by CV Yuka Hinata.


As the student council president, Adam is the face of the academy. And what a kind face he is... on the surface. Inside, he's a sexually twisted individual. And now he's set his sights on student council member Auriel. Who happens to already have a boyfriend.

Adam will do whatever it takes to make her his personal fuckhole... whatever it takes.