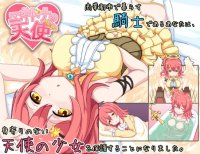 You end up taking in and living with a persecuted angel.
Strengthen your bond with her through conversation, sharing meals, dates, and more.

Of course, through the course of living together, lucky "accidents" will occur.
Peep on her taking a leak, or hopping in the bath,
Your choices may result in her hating you...

However, if you play your cards right, your bond with strengthen, and soon progress to a more adult relationship...