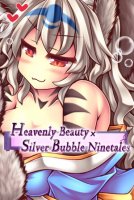 The silver nine-tailed bubble fox " AWAYUKI" appeared in front of the protagonist of the exorcist.
The main character, who has a favorable impression of her, be able to resist temptation and seal AWAYUKI...?
This game consists of two parts: "Evasion" and "Battle."
The evasion part involves action elements and aims to getting close to AWAYUKI before transitioning into the battle part, all while avoiding flying bubbles and hearts. In the battle segment, the goal is to use your skills to damage AWAYUKI while resisting her attacks and temptations.
Each part is distinct yet intertwined, allowing you to enjoy action elements and strategic combat.

When attempting to achieve victory, the difficulty level is quite high, but the game is designed with the assumption that you will be defeated initially.
There's no privilege to winning; even if you lose, you can comfortably retreat to the reminiscence room, so please enjoy to your heart's content.
The gender of the protagonist can be chosen between male and female.
The storyline, gameplay, and overall structure remain the same; only depictions, CGs, and certain text elements will differ based on gender. Furthermore, this concept aims to be a user-friendly game, so despite its rich content, it can be enjoyed with ease!