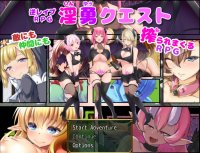 Twenty years have passed since the existence of Inma was discovered. After gaining power and prospering, Inma began to conquer the world. In order to stop the conquest, the hero, the hero, enters the Demon King's castle to defeat the Demon King, the king of lewd demons. Wearing legendary equipment, the hero confidently arrived at the Demon King, but the Demon King grinned.
She started seducing him by emphasizing his big breasts. The hero who is defeated by the demon lord's powerful lustful power has the "mark of lust" engraved on his body. That stamp was a terrifying stamp that said "I get horny anytime and anywhere, and I can't control it with reason".
Will the hero be able to reach the Demon King again and save the world?