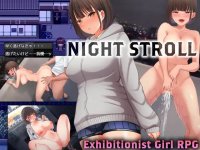 Rika Suzuki is just your average high schooler.

Her days are peaceful and uneventful, until she reads an article about exhibitionism in an S&M magazine at the convenience store and decides to try it out for herself.

First, she starts off small, taking off her mini skirt, walking around in just a pair of shorts and a long hoodie.
But she begins to yearn to try something more extreme.
She tries taking off her shorts, and then her underwear, leaving herself totally exposed.
The delicious shame makes her want even more.

The street where she lives, the alleyways, the apartment building, the vending machine, the park...
Rika thinks about going home, but the lure is too strong.