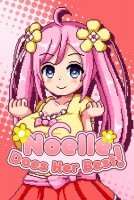 Noelle is tired of living in the countryside riddled with monsters. She never has anything to do and has no friends that live anywhere near her.

However, one day she happens across a flyer... "Fully furnished house for just 1000 gold!"

Although suspicious at first, Noelle still desperately wants to move out and decides to purchase it! Of course, it's no surprise that a deal like that ends up being a trap.

Now knee-deep in crippling debt, Noelle has only ten days to pay it back. The only thing she can do is to try her best and take on as many jobs as possible to make up the money!