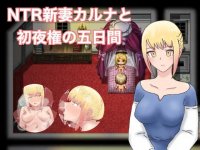 Protagonist and his wife, Karna, who live in the eastern part of the Western Kingdom, are newlyweds who have just registered their marriage.
However, when he returned home to pay the marriage tax, he found that his house had been ransacked by thieves, and all his valuables had been stolen.
He visits the castle of Marquis Mulan, who governs the region, in order to somehow get a grace period for tax payments, but instead of a grace period, he is presented with the condition of the first night right (the right to spend the first night with the bride).
Despite being persuaded by Mulan, the two end up exercising the rights of the first night. I didn't realize it was a cunning trap...