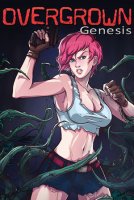 Survival Horror, with an erotic twist. A zombie outbreak ravages the world-
Will you be able to survive and fend off the shuffling hordes?

The deforestation of the Amazon had changed more than anyone anticipated. Out from the ecological devastation came grotesque, plant-like monsters, spreading an affliction across the globe.

You play as a former mechanical engineer- who until now, has been able to find shelter in what remains of human civilization. After a job gone wrong, you find yourself on the wrong side of the barricades and must fight your way back to safety.

Little do you know, getting home will soon be the least of your worries.


The world of Overgrown: Genesis is violent, deadly, and frightening. Here's some of what to expect to do:
Give In To Your Desires- Temptation abounds, indulge in sexual situations.
Survive At All Costs- Resource management mechanics keep the pressure up.
Search Every Corner- Areas allow for exploration and are filled with useful resources.
Stay Goal Oriented- Numerous side quests which offer various rewards.
Struggle Against Fate- Multiple endings reflect your decisions, stay alive, but at what cost?