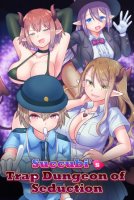 The town of warriors, Kazanstall...
Kazanstall aimed to bring up fine warriors who could vanquish monsters in the future.

Of course, all the young men in town had dream jobs they sought after.
Some wanted to be swordsmen, others wanted to be spell casters, martial artists, or monks...
One morning, Mirai (the protagonist of this story) woke up and went out in town to greet his childhood friends and fellow monster slayer trainees.

Mirai thought that another ordinary day would pass by...

However, an incident strikes him out of the blue.
A flock of succubi attacked the town.
All the men were kidnapped. No one knew what happened to the women.

When Mirai woke up, he was inside a prison.
He was completely stripped of his weapons and equipment.
He looked around the cell and saw his fellow trainees inside...

Apparently, the succubi had successfully created their next by camouflaging themselves as humans.
The succubi launched a direct assault to prey on the humans, now that they had enough manpower.
Mirai, Tsubasa, Kai, and Kaoru... Could these four men successfully escape this nest,
and bring peace back to Kazanstall?

There are various traps within this nest set up to not allow any escape.

Some traps are human-shaped. Other traps are in the form of items... They come in all sizes and shapes.
Of course, there is a chance that the men may encounter the succubi.
Mirai must go through the nest while fighting and trying to avoid the traps.
He must escape, no matter what happens...