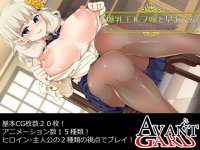 The year is 1911.
The protagonist Ellio was living a loving life with his elf wife Loretta.
Using their strengths at work, they were doing well in both aspects of their lives.

However, Loretta wasn't good with H things, and Ellio was insecure so they
hadn't had much night time activity.
Ellio was gathering up his courage to move forward with it.

However, Fablo appeared before Ellio, and the situation began to get complicated.
Will Loretta be able to resist Fablo's hypnosis?
Or will she fall and be corrupted into a lewd girl...