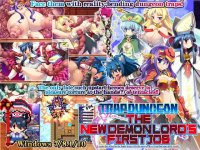 Deep inside a dark forest lies a nation of monsters, Daemoland.
Filled as it is with ancient ruins, labyrinths, and remnants of wars with other worlds, the only humans who visit are adventurers searching for treasure.

And the one who will restore this country to its former glory... is a young boy!

It's the job of young Demon Lord Claude and his cohorts to menace all the invading heroes.

Can Claude use the magical artifact "Klow SIze" to keep his kingdom safe? And what do the adventurers really want? Pack dungeons with traps to stop the invaders and find out!

It's the fourth game in the trap dungeon action series!
- It's finally here, the all-new, even-more-trap-laden follow-up to "Sacrifice Maze"! The rules are familiar; set traps freely and have heroines fight against monsters, but there are tons of new features, too! And the tower defense elements have gotten a huge boost, as well!

- Loads and loads of characters! That includes the Demon Lord's five associates who really liven things up! Their job is to support the young Lord in any way that they can, repelling the invaders and teaching him the secrets of his predecessor. Each has their own unique personality, making conversations a lot of fun! The heroines all have their own interesting traits, too...

- Damaged armor gets destroyed! Think of it as a reward for keeping those pesky heroes away. Wear them down with your devious traps and their armor will finally be destroyed! There's also plenty of "remodeling" fun to be had! If the heroines' HP reaches zero, they'll get punished by a mysterious entity...

- Even more fetishy content from artist Chushin Kranosuke! Get ready for futanarification, anal penetration, breast enlargement, lactation, interspecies impregnation and birth, tentacles, and bodymods galore!