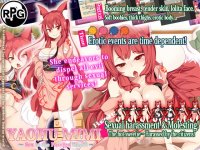 Mimi was a Yaohu (Mythical Fox Spirit) who had gone astray into the human world.
Her mission was to dispel all evil within the modern society.
There was only one way to do so; unleash the men's libido...
The stylish, attractive Yaohu was confronted with immediate sex of the impatient men!
Can Mimi return back home?
- You can freely dress the Yaohu.
- She may suffer sexual harassment...
The game progresses in real-time, with morning, afternoon, and night time events.
Travel around the city at various points in time. Look for men with strong libido.
Together with serving humans,
Mimi is also confronted with monsters summoned from the foreign world...!?
Before she knew it, she was addicted to sex!
This is the story of the girl with the soft breast and thick thighs.