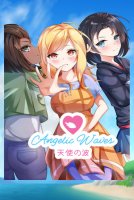 One day, three new neighbours have move in the luxury suite two floors from you.

Maxwell Cross meets Geline, with long-blonde hair and good-girl personality woman in the lobby. After a short talk, Roya, with short hair and cool-looking woman and Anabelle, a bubbly girl who comes along and greet him. After their talk and helping them moving in, Maxwell returned to his room.

But many days later of getting along with the girls from weeks to weeks, he'll starting to have feeling for the girls, likewise as the girls. But as a dating sim, you must choose one girl to date. When the relationship grew closer with your chosen girl, the girl shares you a secret that'll change your life forever.