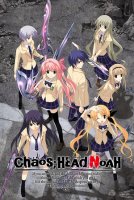 "If you were God, and your delusions could become reality, what delusions would you wish for? A sensual world? A despotic society? Destructive sanctions? Or..."

Nishijou Takumi, a shut-in gamer and anime otaku, spends his days locked away in a shipping container while occasionally attending classes. In his place of residence, Shibuya, a bizarre string of serial killings is set in motion as he is dragged into the ordeal.

Chaos;Head NoAH is the Director's Cut release of Chaos;Head, adding 6 new routes, changes to the story, new CGs, and a revamped True Ending. It serves as the first entry of the Science Adventure series.