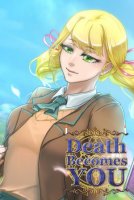 You find your best friend dead, and 4 suspicious students lingering around the scene. Who is the one that did it, and how come you never knew about their complicated history with your best friend? Who is lying about their intentions on that night?

Death Becomes You is a mystery visual novel where you, the reader, untangle the reasons behind Lyra's death by building friendships with 4 of your fellow magic students.

Choices matter and affect the 4 routes of the story. You find the truth - who had the motivation to kill Lyra? Or did Lyra have a secret that she was hiding?