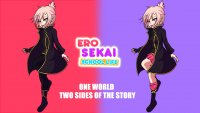 You wake up in a strange place, in front of you are a very beautiful girl, she is the goddess Aqua.
Without memories and without life, you are in the world of the dead.
But she offers you a very interesting proposal.
Retrieve divine fragments in a completely new world.
These fragments can found inside the souls of several girls.
To extract them you must use love or lust, but everything in moderation because if you go too far, something bad will happen.
Join to this fun and erotic multiversal adventure.
Will you become the hero of this world or will you become her worst nightmare?