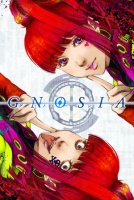 Let's walk and talk. Can you get up?

The Gnosia lie. Pretending to be human, they'll get in close, trick and deceive, and then eradicate each person in the vicinity from the universe, one victim at a time.

The crew of a drifting spaceship, facing off against a mysterious and deadly threat known as the "Gnosia" and having no idea who among them is really the enemy, formulate a desperate plan for survival. The most suspicious among them will be put into "cold sleep" one by one, in an effort to completely rid the ship of Gnosia.

However, it is almost impossible to tell whether each person put into cold sleep was really Gnosia – or simply a poor, unfortunate scapegoat, sacrificed by the Gnosia for their own survival. Can the humans emerge victorious? Or is mankind doomed...?

About

Gnosia is a "sci-fi social deduction RPG".

The story takes place on a spaceship. Among the crew are several mysterious life forms known as "Gnosia". Bent on the complete eradication of humankind, the Gnosia quietly eliminate one crew member each night.

The player can select whether to play the game as human – where they must find all of the Gnosia and put them into a state of suspended animation ("Cold Sleep") to win, or Gnosia – where your goal is to attack and eliminate each crew member until the Gnosia outnumber the remaining humans. Progress through the story by playing through 10- to 15-minute rounds ("Loops") in this "Werewolf-style" indie game that has already garnered overwhelmingly positive feedback in Japan.

In addition to the story and gameplay, the characters and their interpersonal relationships are also an integral part of what makes this game unique and special. Themes of friendship, love, trust, life and death, and personal identity are carefully explored, and Gnosia features a diverse and inclusive cast of characters, ignoring genre stereotypes.