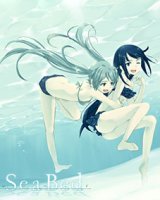 SeaBed is a yuri-themed mystery visual novel told through the perspectives of three separate characters: Mizuno Sachiko, a designer plagued by hallucinations of her past lover; Narasaki Hibiki, Sachiko's friend and a psychiatrist researching the workings of human memories; and Takako, Sachiko's former lover who has been rapidly forgetting her past, including how or why the two women drifted apart despite being together since childhood.

All three live in different worlds, but seek the same goal. To separate truth from illusion. To make sense of their own lives.

----

I saw a ghost in the living room.
But as I was already used to the phenomenon, I did not let it interfere with the preparation of my evening meal.
The ghost ate my fried egg and commended its taste.
As I listened to her talk, my memories drifted back to the days we were still together.
Back when we were in school, she asked me what was necessary for the two of us to be together.
A small workplace that we could make a living from without relying on anyone.
A silent apartment where we would have the freedom to do what our hearts desired.
I told her that.

In the late eighties – during the economic boom – the small design company we founded was doing surprisingly well.
We visited all the places we talked about when we were in school – the southern islands, the old European cities, the West Coast. We went wherever we wanted, seeing whatever we sought.
Alone in that spacious living room, I attempted to figure out why it all ended this way. Why those days when nothing could stand in our way faded into the past.
I no longer felt like I could do everything.
The world had grown complicated. Even simple matters became difficult.
The rules we had established in the past no longer seemed to apply, and the castle we built for ourselves crumbled to dust.
"What is necessary for us to be together?" – the ghost asked me.
We need a make a new place for ourselves.
A place no one can destroy.
Let's make it a place that no one else can reach.
And so, I inconspicuously proceeded with the plan.
In a place so deep below the surface that no one else can find it.