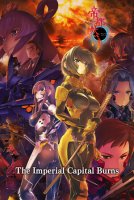 Kyoto, 1997. The capital of the Japanese Empire.

As the cherry blossoms fall in spring, Takamura Yui enters Yamayuri Girls' Surface Pilot Academy as a new cadet.
With the pride of a surface pilot in her heart, Yui trains daily with her fellow students.
But there's one student in particular that stands out to her above the rest... Yamashiro Kazusa.
Kazusa seems like everything that Yui wants to be, and Yui feels a mixture of sympathy and envy towards her.

And then, in 1998, the fateful day comes...
The BETA finally land on the Japanese mainland, advancing eastward with unstoppable force and eventually reaching the outskirts of Kyoto.
Yui and her companions are called to the battlefield.
What fate awaits these newly commissioned officers?