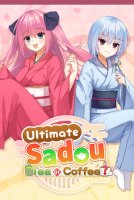 Shintaro Chado was organizing her luggage in the school's warehouse.
There, she meets a beautiful girl in kimono, Kyo.

It seems like she has a beaker between her hands...
She is pouring some black liquid...

After a few seconds, she quietly put it in her mouth

"Wrong!"

She put the wrong dosage in it.

"Ew... it's... too bitter..."

After Kyo has failed at making tea, Shintaro decided to teach her how to make a good tea.

"I want to be the best in the world, no, the best in the universe at the tea ceremony competition !!"

How does a girl who can't even make the difference between tea and coffee can think that she has any chance at the tea ceremony competition...

wait a minute, what do you mean by universe ?!?!

The extraordinarily "ABSURD" world of Shintaro and Kyo ・Tea ceremony Adventure! Let the ceremony begin!