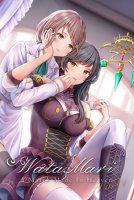 Spring.

Hoshino Hikari is a new transfer student to the prestigious St. Leanne Girl's Academy. But she's no ordinary student, as she's been sent there as an agent by the "Agency", who are interested in the secrets hidden within the school. While her transferring in is quite extraordinary, everyone is more interested in the ritual that takes place before the opening ceremonies.

During this ritual, some students manifest signs of the zodiac, and then are given an angelic title and a blessing. These students are known as the Angels of the Zodiac, and are given the role of bringing fortune to the student body.
Hikari, who is trying to not stand out in order to root out the school's secrets, is bestowed with the grace of Virgo during the ceremony and becomes known as "Exousia".

This is of no consequence to Hikari who simply wishes to make friends with the student body as soon as possible to not stand out like a sore thumb. Things don't go according to plan as she feels a burning sensation on her cheek and is suddenly bestowed with the grace of Virgo and becomes known as Exousia.

"But… but… why me…?"

What is her connection to the other Zodiac? And what are the secrets hidden within the school?