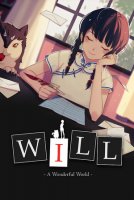 There is an urban legend...
Write down your troubles on a note and pray. A god shall hear your story as relayed.
People who believe in the legend live all over this world, in every shape and form. They write and pray to the gods, seeking help for their troubles.
A quiet nerd stuck in a hopeless crush.
An impoverished artist contemplating suicide.
A rookie police officer hoping for his first big case.
A young woman desperately chasing her dream.
Even a stray cat who would be satisfied with just some food to eat.
What would the world be like if such a god exists with the power to alter the fate of those that believe in this urban legend? What if, you are that god?