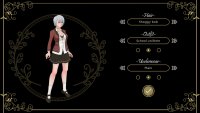 Ready for a brand new trainer game?  You came to the right place!
Looking for some 'spicy' fetishes? Oh yeah, you'll love this one.
Here in "A Trainer's Tale", you'll play as a young man who stumbled upon a quest to complete his final hurdle to become a certified slave trainer. You'll be paired with a beautiful yet rebellious girl who will you shaped into a perfect slave. The journey won't be easy, but you have to break her before the time runs out!
1