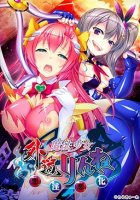 Not good at studying, bad at sports, being a game addict and having weak communication skills, weak and always abused, corrupted by feelings of jealousy and negative emotions - that is the personality of our protagonist, Tendou Rinne.

The polar opposite of Rinne is Takano Hijiri, her popular classmate with an honor student's personality, and who also wants to become Rinne's friend. But Rinne hates Hijiri from the bottom of her heart.

One day, Rinne encounters a mysterious creature named "Kapira" who grants Rinne the chance to become a magical girl, not knowing the twisted personality of this girl...