Neruko secretly mamaization plan !!
---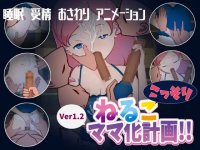 Found a girl sleeping on the sofa! Is she ready to have a baby?
I'll secretly sire her for you……..
User Feedback
See also:

A pseudo-experience game where you can pay a female assistant to do as you wish!


"I am Alice. Do let me hear a story."

Here and there - in the space between buildings, in back alleys, perhaps even in the underground - the Forest bleeds into our world. The Forest is a forbidden place where the rules of our world do not apply.

Our heroes must struggle against the Forest, without so much as the hope of assistance or understanding from the outside world.

They do battle against the "riddles" the Forest imposes upon them with the aid of superhuman abilities known as "gifts."

And should they know defeat in their battle against the Forest, they will face that which they fear most - expulsion from Shinjuku.


Dille, Elle, and Premium too...
All the pictures of DLsite's mascot characters covered in cocks are second hand merchandise!!
That is absolutely unacceptable!!
There's only one thing to do, and that is break into the office of the digital distribution system,
and set things straight!
The dissatisfaction of the users of the DLsite is running amok!!


* Break into the office of the DLsite!
There's no reason to exercise restraint!
If any of the employees try to stop you, just kick them and punch them out of the way!

Take care of the mascot characters!
Premium
Mente
DS
Sarah, Rara
And at the top of the hierarchy, Dille and Elle! Take them all down!
And once you've beaten them... Disgrace them!


ittle witch Merry's final test to become a full-fledged Shrine Maiden is to obtain a hidden treasure from Cosmic Shrine.
With her trusty maid Marie by her side, she braves all sorts of lewd perils!
Help Merry become the golden maiden she has always wanted to be, cast out the ecchi ghouls that haunt the shrine!


The story is set in the city of Lylan on an isolated island.
And starts when the swordsman Rouge washes ashore.
Enjoy the many activities of Lylan through fishing, cafes, casinos, arenas, and much more!
However, a mysterious aura approaches...
Fight off the forces of evil to save the city!
Your actions decide everyone's fate in False Myth!