Neruko secretly mamaization plan !!
---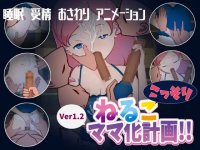 Found a girl sleeping on the sofa! Is she ready to have a baby?
I'll secretly sire her for you……..
User Feedback
See also:

How a Retired Strategist Saved the Country is a real time strategy simulation game where you manage resources to develop your country.
The player is asked by elves, beastmen... Etc. various heroines ask you for help, and then you take command of their country's army.
Will they become the victors, or princesses of ruined countries... It all depends on you."


The heroine of this title, Sonia is a holy knight of the King's Church. Receiving emergency
contact from a town, the church sends Sonia on a mission to solve a hypnosis incident taking place in the town.

With their chastity controlled, townspeople have sexual intercourse on the street!
Men got hypnosis items and do all the things all around the town!
Her subordinates fall into a trap soon after they arrive in the town!
Even worse, her operation fund is stolen!
Sonia struggles to save the town in the face of hardship!


A tale of revenge by goblins after their village is destroyed by humans
Goblins, whose village was destroyed by humans, receive special powers from a goddess.
The goblin, empowered, rapes the heroines who treat the goblins like small fry, and captures the heroines.
The captured heroines are impregnated and give birth to goblins, forming a goblin army.
Goblin army raids human strongholds, and goblin army destroys human strongholds. ……


The fate of a captured princess lies in the hands of a single woman. Using the power of the spirits and a variety of items, the female knight Jeanne must explore the kingdom that's been thrown into chaos to save Princess Lily in this classic-style action RPG.


Tayne, a rookie adventurer,
hears about a business venture from his friend Damme.
Days later, he gives him a sample:
A POV erotic video with a girl he knows.
Shocked but interested, Tayne begins to work
in the adventurer's guild with the female characters.