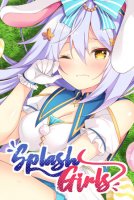 You become a kitten and you meet 12 pretty girls.
Let's play with the girls.


When you press the left click, the girl will be watered.
There are four items that can help you during gameplay.
・Power up
・HP recover
・Check the remaining blocks
・Invincible

Many monster will get in your way, but if you hit the monster, you won't take any damage.
You lose life when you hit a bomb.
Do not go off the screen. If you do so, the game will be over.

After playing, you can hear the beautiful voice of the girl.
Enjoy beautiful graphics and a moment at the water's edge.