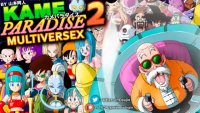 The old master has stolen the time machine and is going to chase the young girls through the multiverse.
User Feedback
See also:

Not gonna be late this time~
 
The tradition continues, it's time to post your top anime from 2021! Quite a lot of AOTY contenders for this year than I normally see.
As always, I will post what I believe to be the best anime per season, so 4 total! They will all be non-sequel or not in a major series, so anybody looking for something they can quickly jump in will have a better time! 
 
Winter: https://myanimelist.net/anime/39535/Mushoku_Tensei__Isekai_Ittara_Honki_Dasu
This one made the name for itself ever since EG still has it's simple shoutbox. Being the grandfather of modern isekai, Mushoku always has a spot in the list as one of the few anime exploring the full potential of this genre. Fanservice included, but that too is also essence of the isekai.
 

 
Honorable mention: https://myanimelist.net/anime/40750/Kaifuku_Jutsushi_no_Yarinaoshi
Isn't good by any mean, but I put this here for the impact it has lol.
 
Spring:  https://myanimelist.net/anime/46095/Vivy__Fluorite_Eyes_Song
One of the most underrated show until about 5 episodes in when people start catching wind of it. Very good animation, dystopian premise, and explore the issues of robots/AI and humans. Oh, nice music to boost since the AI is an aspiring idol : P
 

 
Honorable mention: https://myanimelist.net/anime/41457/86
Any other season and this would've been topping the chart. In fact, it's debatable whether Vivy or 86 is the best. Both are AOTY contender though.
 
Summer: https://myanimelist.net/anime/40904/Bokutachi_no_Remake
This anime was made with collaboration from Front Wing. Why? Because it's an anime about a group of students and their visual novel circle, with a very immersive first episode (50 minute, basically a movie itself). The anime has a good cast of characters and stay pretty realistic in portraying the time and place these characters are in. 
 

 
Honorable mention: https://myanimelist.net/anime/43969/Kanojo_mo_Kanojo
A guy agreed to date four (and counting) girls at once. That should give you an idea of what comedy you're in for.
 
Fall: https://myanimelist.net/anime/48926/Komi-san_wa_Comyushou_desu
Tight spot between this gorgeous animated romcom, and Ousama King. But I will let this take the throne since I enjoyed this adaptation very much.
 

 
Honorable mention: https://myanimelist.net/anime/40834/Ousama_Ranking
Another AOTY that's debatable. Most people will have this as their best Fall anime, just from the quality of the storytelling. Don't let this children-looking anime fools you.
 
----------------------------------------------------------------
 
Best of 2021: Mushoku Tensei


The main character, I, has a beautiful and big-breasted cousin named Ayaka. My sister was sweet to me, and even if I was sexually harassed, I would forgive her if I apologized.
One day, I find my sister taking a nap. I've always wanted to have sex with my sister, so naturally I took off my pants and attacked my sister.


Empress Eleonore's kingdom is defeated, and she is found guilty of rebelling against the Emperor, and thus exiled to the Malaise Island.
There, she hears rumors of miraculous treasures sleeping deep in the ground,and of a dragon that protects it all.
With dreams of rebuilding her lost empire, Empress Eleonore's adventure begins!


Alexander Calendar 837
3 years after the largest war ever began, I'm appointed to be a commander of UN army, sent to the front of Iraq. The evil organization, Sidra, subverted the world in only 3 years. Many countries have fallen. Berlin, the old headquarter of UN, was taken, too.
Our flame of hope hasn't gone. We, UN army, fighting for ideal and justice of human beings, have set up new fronts again in Northern Europe and Africa. It's time to fight back now.

Fictitious Early Modern War SLG

Defeat the evil organization Sidra to save the world as a commander of UN Army. You could join the northern front or the southern front. The heroine characters change depending on your choice.
You'll unlock Sidra Route later to destroy the world and conquer women. There are some torturing events to the UN female commanders.


"Proof of Maidenhood"
... A mysterious item in the home of queen-in-waiting Colette.
When she loses her virginity, it will disappear.
That item is proof of her intact hymen, and her right to the throne.

To become queen, Colette needs that proof!
To keep that proof, she needs to keep her virginity!

* Multiple endings as a pure maiden or a slovenly whore!
Including GOOD ending for both circumstances!

* Lewdness changes the character - even if she doesn't open her legs!
It's possible for her to devolve into a sex mess with her maidenhood intact.
When Colette gets too lewd she'll be unable to sleep...

* Battles result in sweat-soaked panties!
Colettes underthings will stain over time. You can auction them.
More importantly, dirty panties will lead to certain events,
so be sure to battle lots and get those panties all sloppy wet!
As you progress you'll be able to auction your virginity, too!

* Ecchi battle cutscenes with full size graphics!

* Losing her virginity isn't the end-all of Colette's concerns...
she might also get pregnant! Event scenes have the option to
blow a load inside her or outside. You control the action.

* A dynamic cosplay system = different outfits, different skills

* Instead of a gallery you can access events any time via "ecchi memory"

* Fast travel around the map with the "teleport skill"

* Play it all again with New Game Plus!
Keep your end-game level and items, blaze through the game
stress-free with the additional option to skip events!