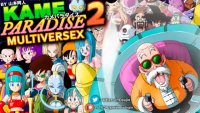 The old master has stolen the time machine and is going to chase the young girls through the multiverse.
User Feedback
See also:

Meltys Quest is about the journey our protagonist, Princess Meltys takes to restore her kingdom. Meltys is a girl who has fooled around all her life, not giving a hoot about anything but herself. But one day the Grolido Monster Empire invades her country, destroys her home, and kidnaps her three sisters. With no castle and no one else to call for help, Meltys decides,

"Well, I'll like somehow fix everything!"

Please warmly watch over Meltys and guide her on this light-hearted, sometimes comical, and sometimes serious, but always erotic, quest to rescue her family and restore her kingdom.


The sun rises on a humble village tucked away in the trees, and only one thing is on Lelie's mind: sleep! Well that, and the fact that her master has returned! The day has finally come for her to take the next step in her dowsing career, and she's nothing but optimistic for the future. Together with her dear friend Ciel, a self-proclaimed sorceress extraordinaire with a biting wit, the two stand ready to use their well-honed skills for the good of others. That is, if Lelie can keep her head on straight long enough to do so!
A whole host of shenanigans and clients, both savory and less so, will test not only the girls' abilities and teamwork, but their personal views, beliefs, and relationships. Especially when a mysterious young woman and her unique plight push them to their very limits. Will Lelie lose herself? Or will she find something more than her dowsing ever could?


The myth that the Goddess could be resurrected had been whispered on the dying breath of Malami, the last Great Nymph trainer. His faith in her resurrection passed to Cosmo, his wet yet loyal grandson, accompanied by his trusty sidekick Frea, a cheeky and hilarious nymph.

Their quest, if successful, would restore the lands to their former glory. Beauty, passion and creativity would return to the realm, all considered distant memories of a time before she'd passed judgement on the wicked ways of man. Their journey will be filled with battles: they will meet exciting trainers during their quest and recruit some super sexy girls along the way.


A high-quality H experience with beautiful hand-drawn animations.
Add a little color to your life by acquiring the "Doll House", complete with a charming, elegant girl.
The obedient Elenore will surely fill any holes in your heart.

This game is all about giving protagonist Elenore your sexual love.
The delicate animations are supported by Unity's shading technology
and a wonderful full voice performance provided by CV Yuka Hinata.


The sex-and-gambling fiend Rei works at a certain night-time mahjong club.
You've got to pay to play with her, but if you win, you'll hit the...
mahjong version of a jackpot. (Is that still a jackpot?) Anyway, she'll fuck you.
 
Take control of Rei and play against three different customers.
Lose and it's game over, but that's when the special service begins...