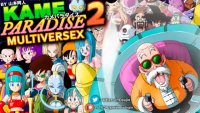 The old master has stolen the time machine and is going to chase the young girls through the multiverse.
User Feedback
See also:

A pseudo-experience game where you can pay a female assistant to do as you wish!


As a nameless adventurer you hear the rumor about a dungeon beyond the mountains and deserts. They say that if you can reach the bottom floor, it would grant you all your desires. On a whim you decide to look into the rumor, only to find not only the dungeon, but an entire town built upon it!
With the encouragement of the townsfolk, you decide to explore the strangely straightforward dungeon filled to the brim with lovely monster girls that would never really hurt you, considering adventurers their main source of food (read: semen). What could possibly go wrong...?


Dille, Elle, and Premium too...
All the pictures of DLsite's mascot characters covered in cocks are second hand merchandise!!
That is absolutely unacceptable!!
There's only one thing to do, and that is break into the office of the digital distribution system,
and set things straight!
The dissatisfaction of the users of the DLsite is running amok!!


* Break into the office of the DLsite!
There's no reason to exercise restraint!
If any of the employees try to stop you, just kick them and punch them out of the way!

Take care of the mascot characters!
Premium
Mente
DS
Sarah, Rara
And at the top of the hierarchy, Dille and Elle! Take them all down!
And once you've beaten them... Disgrace them!


ittle witch Merry's final test to become a full-fledged Shrine Maiden is to obtain a hidden treasure from Cosmic Shrine.
With her trusty maid Marie by her side, she braves all sorts of lewd perils!
Help Merry become the golden maiden she has always wanted to be, cast out the ecchi ghouls that haunt the shrine!


In Island SAGA, you play as the protagonist character as you explore the island of adventure, Valentine Island, with your four royal and royally busty party members in order to search for the fabled treasure of love known as the Love Rheid in this RPG inspired by a very famous classic RPG series!