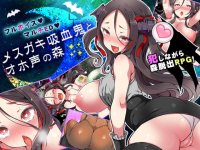 I'm a monster hunter that just captured vampire Nameru!
…but now I'm lost in the forest!
And the technique I used to capture Nameru is getting weaker!
I have to escape before that technique completely runs out of power!

[H Events]
- Get wrapped up in tons of H trouble, and find lots of lewd treasure boxes!
- Enjoy fantasy ero with tentacles, slimes, and more!
- Teach a cheeky loli vampire a lesson with hardcore rape!
- Enjoy the changes in Nameru as she slowly becomes pleasure-corrupted!