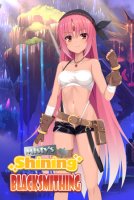 A world called Fillwitz has finally ushered in an era of peace after the long war between mankind and the demon.

But Misty, who lives in the underground city of Gondalva and runs a blacksmith shop, is distressed by the sharp reduction in work caused by the peace.

But before long, the opportunity comes.
A huge underground city [Gehenna Cavity] was found near the town.
Attracted by the new resources and the legendary [Great Power], humans and Demons gathered here from all over the world.

Misty decided to seize this valuable business opportunity to revitalize the blacksmith shop, but she didn't expect a turning point in her fate!