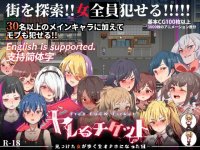 I never thought it'd happen,. but I was starting to get bored of just jerking off every day.
Luckily, my savior came in the form of a smoking hot tall lady, who gives me a strange ticket - the Sex Ticket.

The moment I hand this item over to a woman, their pussies get wet, and they devote themselves to servicing me!
I might be a total stranger, but they'll whip out my dick, and let me violate them freely!
The possibilities and personalities are endless! I can never bore of this!
The effective area of the ticket starts small, but the more pussy I plow, the larger the radius!
Think of all the places I can use this!
The convenience store, the park, the shrine, the cafe...
And none of the women will bat an eye at my perverted desires!
The ticket even makes them more sensitive, causing them to moan in pleasure even if they don't want to!
As the pleasure builds within them, they start to change. I could lap up those expressions they make!
The women of this town are simply toys for my amusement now, and I just have to find them...