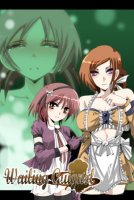 Guignol.
A crystallization of rivalry, developed by mankind.
Mindless doll created for the sole purpose of fighting.

Because of them, conflicts intensified.
Because of them, the world followed a path to destruction.

They had no free will. No thoughts. They were simply killing,
stealing and killing again on command. This chain of events
sparked conflicts and conflicts brought ruin.

Humanity engaged in battles, waged wars and then, before
long, it brought itself to ruins. When that happened, you
could say humans made the best possible choice...
That is - to seal Guignols, that were the roots of wars,
until not a single one remained.

Eventually, countless Guignols, that swarmed the entire
world, started disappearing one by one. However...
although humanity successfully severed the roots of
conflicts, it suffered considerable losses in the process.

After Guignols disappeared from the world, as far as the
wide-open eyes of humanity could see... stretched the vast
wasteland of iron and rust.

In this era, humans are living scattered around scarce
resources. They formed several night-watchmen states to adapt
to this harsh environment and live in constant fear of the
strange, evolved creatures known as Nonasomy species.

Iron Desert town, Elgerita.

This is one of such communities. Even though it is
surrounded by nothing but sand and rust, people are working
with each other to survive every day.
A certain boy... is living in this town.