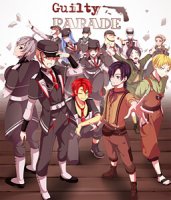 You wake up in a completely unfamiliar place without any memories of yourself surrounded by hostile soldiers. What is that like?

The male protagonist gets a nickname Nemo and is forced to investigate a cruel crime in exchange for the Commander's patronage. To solve the case, he joins the elite squad of soldiers and he needs to get the trust of his comrades in order to find the culprit. However, what if the murder hides even more secrets and solved mysteries will only raise new questions? Will his new comrades become his companions or enemies?

Nemo will have to not only investigate the crime but also learn to live in this new world and decide which side he is on in the military conflict.