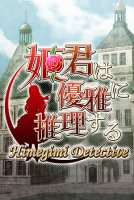 Sayla Limehult, First Princess to the Kingdom of Ratania, shall set off for the far-away land of Japan to learn about the wider world and her role within it.
As both a princess, and a world-class detective!

Such lessons are not easily learned, of course, and it isn't long before Sayla finds herself embroiled in a string of misadventures.
A baffling suicide, a locked room mystery, a letter from a master thief...

With your trusty assistant at your side, take initiative to unravel the mysteries and unveil the truth!