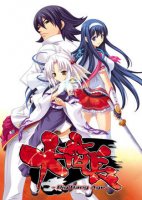 In the year 200X, a giant hole erupted in the middle of Japan. Called the Hell Hole, its appearance caused the sea to split and the lands to bend. The entirety of Japan was twisted out of shape, and dark B-crystals appeared everywhere, bestowing special powers to some people, mostly the younger generation. Special Students, as those people were soon called, became the object of fear. Japan became ruled by violence and terror and was cut off from the rest of the world.

A year after the appearance of the Demonic Hole, a Special Student with extraordinary strength and will managed to unite the Special Students throughout Japan. He formed the Student Union (S.U.) to bring order back to Japan, and Japan entered a peaceful time, but it was not meant to last.

Now, the land is more split than ever between the military of the PGG, the horrifying vampires of the Nightmare Eyes, the disciplined ninjas of the NPI, the fanatical Holy Flame knights, and the violent Skull Serpents sky pirates, with no end to the hostilities in sight. However, one man appearing in the Tokyo school may just change Japan forever...